AEOLIX TestFest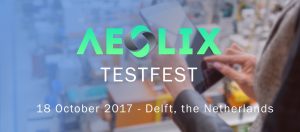 Supply chain visibility
AEOLIX TestFest takes place on Octobre 18th in Delft, in the Netherlands.
---
The AEOLIX TestFest will show end-to-end visibility and platform component scenarios in different living labs throughout Europe.
TestFest objectives:
 Demonstrating supply chain end to end visibility
 Testing and Connecting to the AEOLIX platform components (CE, dashboard, toolkit)
 Testing the Living Labs toolkit
 Measuring impacts of CO2 footprint using the AEOLIX platform
For whom:
 Shippers, Ports, IT Service providers, Logistics Service providers, Fleet Operators and
Transport Companies
NeoGLS, with Cerema and Novacom, has developped a Living Lab on Bordeaux and its port, to improve the flows of data between the various actors of the supply chain (in particular SME) and to reduce the time required for the treatment of the goods at first and upon the arrival of the port.
A demonstration of Bordeaux Living Lab will take place during the AEOLIX TestFest.